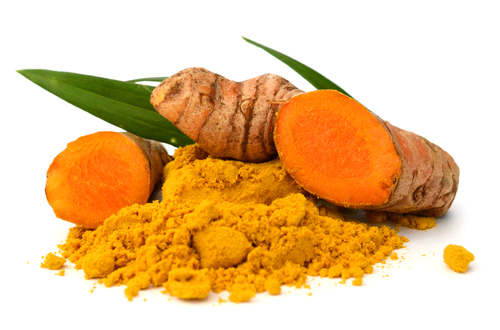 Curcuma longa(Curcumin)
NOMENCLATURE:
Botanical name / Scientific Name: Curcuma longa
Common Name: Turmeric
GRADES:
Curcuminoids 95%
Curcuminoids 40% Water dispersible
ANALYTICAL METHOD:
a) UV - Spectrophotometer
b) High performance liquid chromatography (HPLC)

Turmeric is an ancient spice, a native of South East Asia, used from antiquity as dye and a condiment. It is cultivated primarily in Bengal, China, Taiwan, Sri Lanka, Java, Peru, Australia and the West Indies. It is still used in rituals of the Hindu religion, and as a dye for holy robes, being natural, un-synthesized and cheap. Turmeric is in fact one of the cheapest spices. Although as a dye it is used similarly to saffron, the culinary uses of the two spices should not be confused and should never replace saffron in food dishes. Its use dates back nearly 4000 years, to the Vedic culture in India where it was used as a culinary spice and had some religious significance. The name derives from the Latin terra merita "meritorious earth" referring to the colour of ground turmeric which resembles a mineral pigment. In many languages turmeric is simply named as "yellow root".
Turmeric is used as a spice in curry powders and mustard. It is being investigated in clinical trials for the treatment and prevention of cancers, particularly of the GI tract, and for treatment of colitis and Alzheimer and Huntington diseases.
Function:
It is used as a condiment or spice and coloring agent.
Turmeric main function is Natural Immunity Booster.
Its main role as in anti-inflammatory and Immunomodulation.
It is used to reduce symptoms of skin cancers and it is also very effectively used in the treatment of breast cancer.
Turmeric is used as a blood purifier and it is used in the treatment of atherosclerosis, it is used to remove accumulation in the blood vessels and used to remove toxins from the body.
It is used in the treatment of diabetes & Anemia.
Externally its paste is used in the treatment of insect bites, wound healing and it is also helpful to rejuvenate skin tone. It is used to heal sores and also used in various cosmetics.
Curcumin is used as home remedy to cure a common cold, cough and it exhibit anti-influenza virus activity.
It is used as Antiarthritic agent.