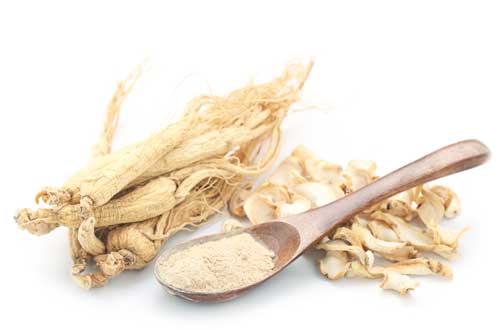 Ginseng Extract
NOMENCLATURE:
Botanical name / Scientific Name: Panax ginseng C. A. Mey
Common Name: Ginseng (Asian ginseng, Chinese ginseng, Korean ginseng)
STANDARDIZED:
Ginsengosides
GRADES:
5%, 10%, 20% & 80%
ANALYTICAL METHOD:
a) HPLC
b) UV-VIS
Ginseng, a regularly top-selling herbal supplement, comes from the root part of several plant species in the Panax genus. The most common type of ginseng supplement comes from Panax ginseng. "Panax" means "all-healing" in Greek, and Panax ginseng is conventionally referred to as the Asian ginseng.
Function:
Panax ginseng improves thinking, concentration, memory, Alzheimer's disease, work efficiency, physical stamina, preventing muscle damage from exercise, and athletic endurance.
It is used for fighting particular infections in a lung disease called cystic fibrosis. These infections are caused by a bacterium named Pseudomonas.
Other uses include treatment of anemia, chronic bronchitis, swine flu, prediabetes and diabetes, inflammation of the stomach lining (gastritis), fever, hangover, chronic obstructive pulmonary disease (COPD), HIV/AIDS, fertility problems and sexual dysfunction in men, to increase sexual arousal in women, and asthma.