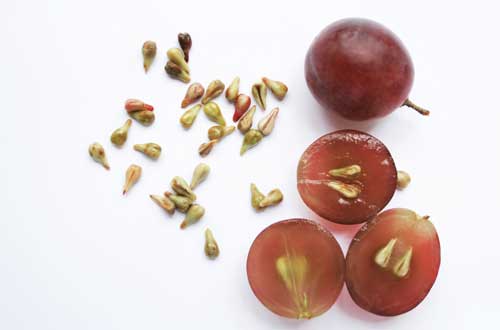 Grape Seed Extract
NOMENCLATURE:
Botanical name / Scientific Name: Vitis vinifera
Common Name: Grape
STANDARDIZED:
Procyanidins/ Oligomeric Proanthocyanidins (OPC)
GRADES:
Procyanidins/OPC 95%
ANALYTICAL METHOD:
a) HPLC
b) UV-VIS
Grapes are versatile fruits used in a wide range of popular foods. It is rich in antioxidants, including phenolic acids, anthocyanins, flavonoids and oligomeric proanthocyanidin complexes (OPCs). In fact, it is one of the best-known sources of proanthocyanidins.
Function:
Due to its high antioxidant content, it can help protect against oxidative stress, tissue damage and inflammation and prevent disease.
It helps reduce blood pressure, particularly in young to middle-aged and overweight people.
It also helps reduce your risk of heart disease by inhibiting the oxidation of "bad" LDL cholesterol and by reducing oxidation to heart tissue during times of stress.