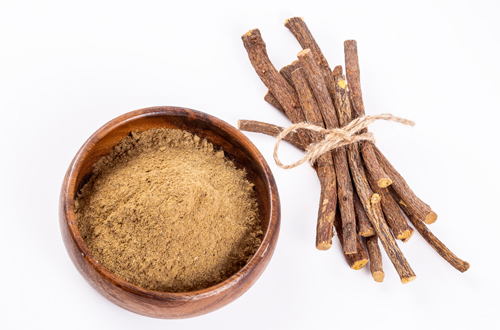 Glycyrrhiza Glabra Dry Extract
NOMENCLATURE:
Botanical name / Scientific Name: Glycyrrhiza Glabra
Common Name: Mulethi , Liquorice
STANDARDIZED:
Glycyrrhizin content
ANALYTICAL METHOD:
a) Gravimetric
Liquorice or licorice is the root of Glycyrrhiza glabra from which a somewhat sweet flavour can be extracted. The liquorice plant is a legume (related to beans and peas) that is native to southern Europe and parts of Asia.
Function:
Licorice is primarily used as a flavoring agent in the tobacco and candy industries and to some extent in the pharmaceutical and beverage industries today.
The chemical compounds found in licorice have been investigated as cancer therapy as well as for their antiviral activity.
Licorice is recommended to treat respiratory problems.