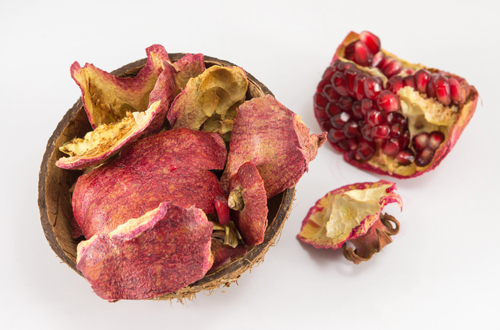 Pomegranate
NOMENCLATURE:
Botanical name / Scientific Name: Punica granatum
Common Name: Pomegranate, Anar, Anardana
STANDARDIZED:
40% Punicalagins
40% Ellagic acid content
ANALYTICAL METHOD:
a) HPLC
b) UV
The pomegranate botanical name Punica granatum is a deciduous shrub or small tree, sometimes thorny, between 5–8 meters (16–26 ft) tall. It has oblong, shiny, leathery leaves up to three inches (eight centimetres) in length, and the scarlet funnel-shaped flower has five-to-eight rumpled petals with a matching calyx. The fruit is a large berry with tough, leathery skin (called a husk, rind, or pericarp), with a persistent calyx and fleshy pulp enclosing edible seed.
Function:
The punicalagins have been shown to reduce inflammation.
It improves your cholesterol profile and protects LDL cholesterol from oxidative damage.
Pomegranate has antibacterial and antiviral properties which is useful against common gum diseases and yeast infections.
As a rich source of nitrates, pomegranate may improve exercise performance by increasing blood flow.